In The Restaurants
Summer House & Stella Barra Alumni Bring 'Oh Golly Dumplings' Pop-Up for Valentine's Weekend
Jan 25, 2007
From Friday, February 12 – Sunday, February 14, check out Oh Golly Dumplings pop-up, from Colorado-based husband-and-wife team, Ryan and Sara Vansplinter. This special pop-up will be serving up pillowy and pan-fried magic out of the Summer House Santa Monica and Stella Barra in Lincoln Park. 
Click here to pre-order Oh Golly Dumplings for pick-up from Summer House.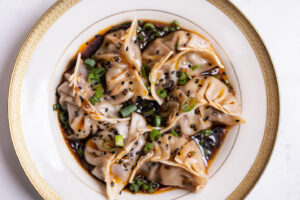 The menu includes a variety of options including The OG, made with ground beef, purple cabbage, carrot and serrano, plus a spicy housemade OG Sauce that's made with mirin, black vinegar, and other secret ingredients.
Next up is the Pork Kimchi made with ground pork, shredded K.R.E.A.M Kimchi and ginger, the Holy Sh**take with tofu, mushroom, scallion and cabbage and Tom Khallins with shrimp, bok choy, mushroom and cabbage, plus the vegetarian Mushroom Broth and the Hot Dang, two miniature all-natural beef hot dogs with marinated beech mushrooms, pecorino romano and spicy kewpie aioli. The Oh Golly Dumplings founders, Ryan and Sara Vansplinter, landed on these combinations with a lot of testing, and pride themselves on doing everything by taste and smell to get perfect measurements and profiles.
Ryan and Sara met seven years ago at Summer House and Stella Barra, where they worked as bartenders. Building their experience at Lettuce Entertain You sparked their shared passion for hospitality and bringing people together with food.
"Dumplings were a good excuse to have friends over—because, who doesn't love dumplings—and teach them how to make them from scratch," reflects Sara, the Chief Folding Officer. "Add in Bring-Your-Own-Wine and some Mario Kart, and it became a special tradition for us all to share."
When COVID-19 hit, Ryan and Sara joined a bartering program with their friends to exchange goods and stay connected, and that's when the momentum kicked off for Oh Golly Dumplings. They partnered with restaurants and bars affected by the epidemic in Denver, Vail and Boulder with pop-ups and cocktail collaborations. As a result, the couple hope to bottle their OG Sauce one day, as it's a top request, rivaling the dumplings themselves!
The Oh Golly Dumplings Pop-Up will be available for carryout only at Summer House and Stella Barra (1954 N Halsted St) from Friday, February 12 – Sunday, February 14, with pick-up times available from 2:00 PM – 6:00 PM each day. Click here to explore the Pop-Up menu and place your order. Orders must be placed by 2 days prior to intended pick-up date at 6:00 PM. Call 773-634-4100 or shsbparties@leye.com for more information.
---